Hosanna in Excelsis!
Hymns and Devotions for the Christmas Season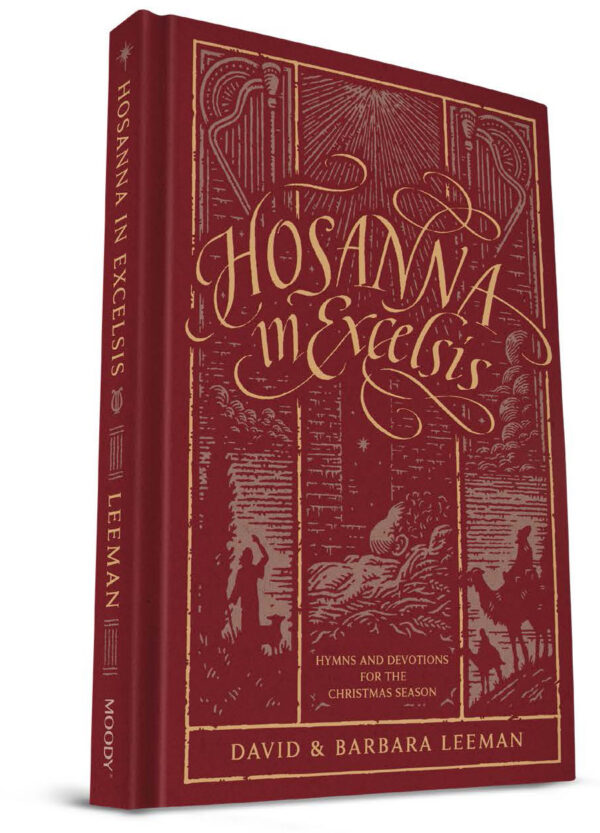 Celebrate the coming of Christ by immersing yourself in the legacy of music that truly honors the Christmas season. Hosanna in Excelsis is a devotional that couples the lyrics and score of a new hymn daily with a devotional message about the music's biblical and spiritual truths.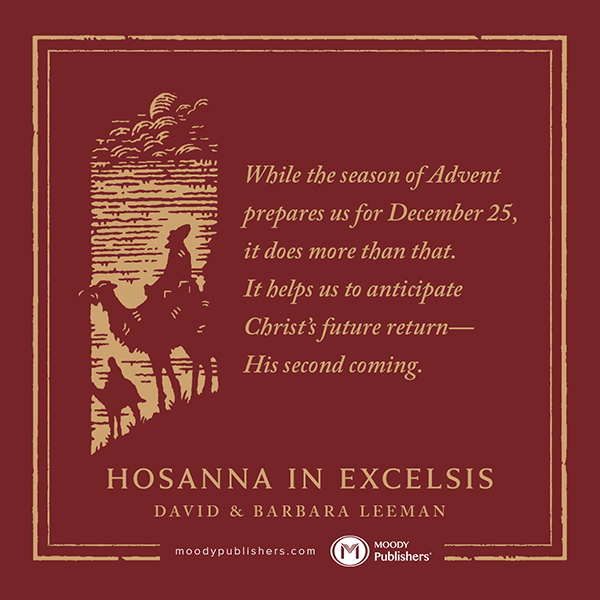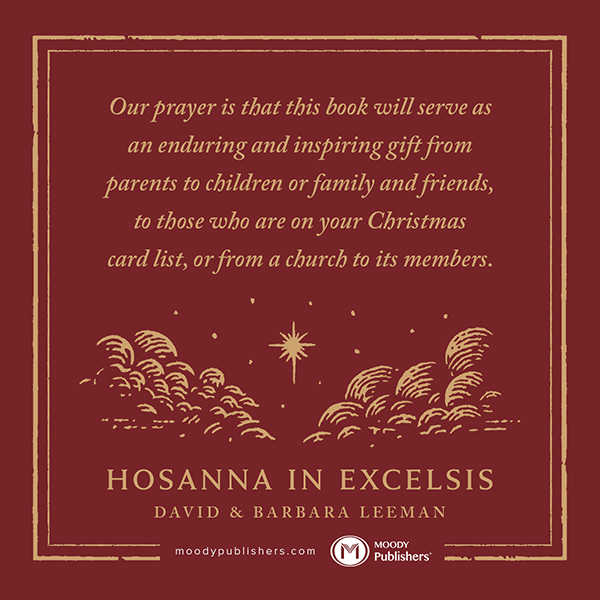 ---
---
Hosanna in Excelsis!
Spiral Bound Piano Accompaniment Book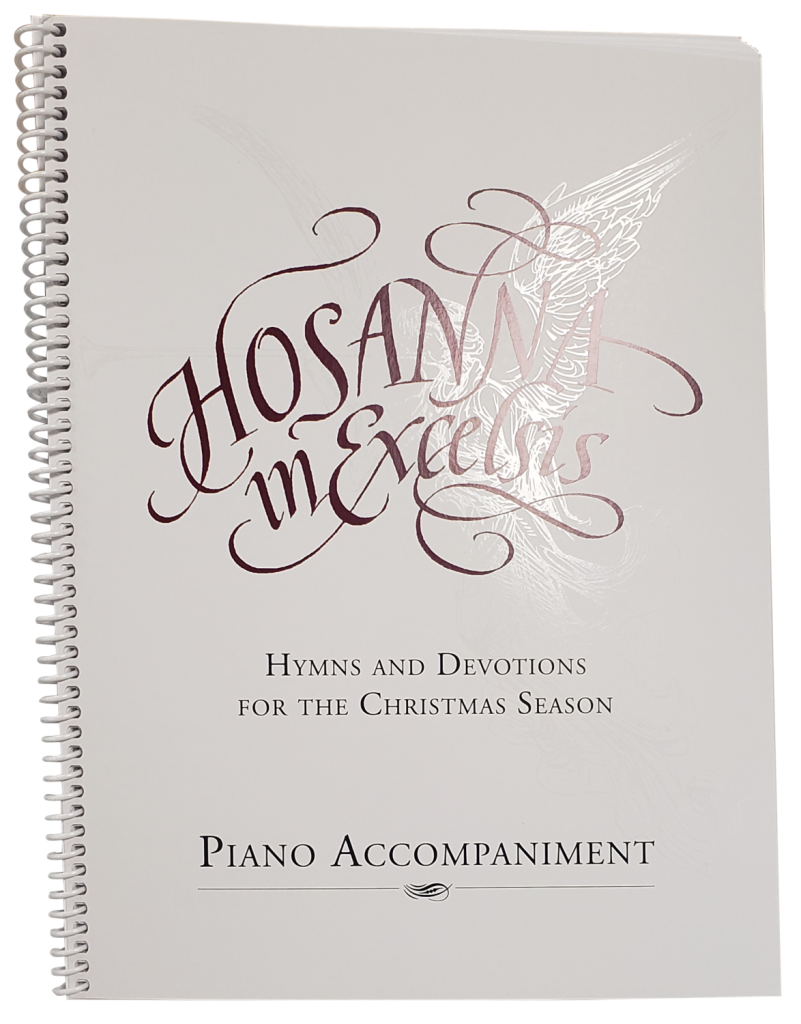 Companion to the book,
Hosanna in Excelsis, Moody Publishing
Arrangements by David Leeman
---
Hosanna in Excelsis!
MP3 Recordings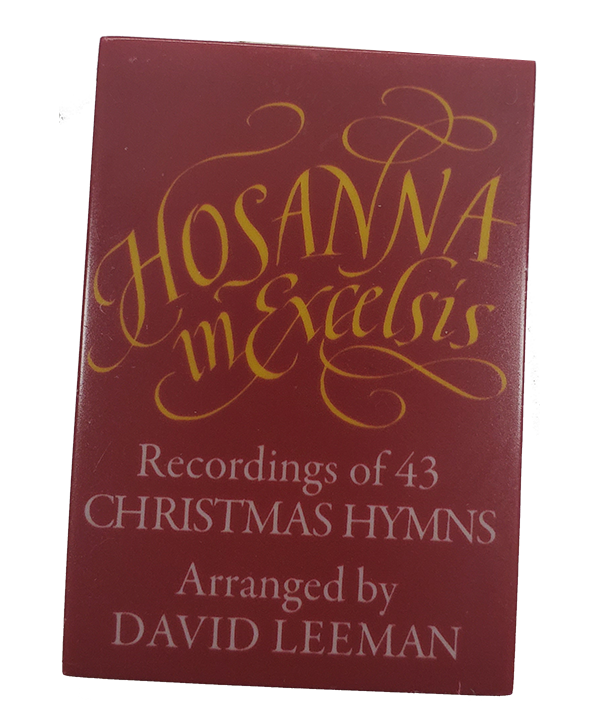 All 43 Christmas Carols are offered twice: Once with voices like a family—dad, mom, and children, and once with piano only to be sung along without the voices.
What do you do if you do not play piano or even have one to play? How can you learn the hymns you may not know?
Obtain a downloaded, packaged zip file with every hymn recorded on piano with all the stanzas for singing with an accompaniment arranged to help interpret the texts. These include a brief introduction, occasional interludes and occasional key changes, making your singing fit the emotion of the text. .
These professionally produced recordings can be used in a family setting or even in a classroom or small church Sunday School class, or a group Bible study.
Why do we use MP3 Downloads instead of a USB Flash Drive, CD's or Streaming services?
The amount of music for each book would require many CD's and much shuffling to find the song you want.
Hosanna in Excelsis contains approximately 4 hours of recordings and Our Hymns Our Heritage contains 6.5 hours.
CD's are no longer playable in newer model cars or on most home music systems–or even many computers.
Although streaming is now the popular standard for music transfer, to purchase this many tracks, (86 and 120 respectively), would be very expensive. Also, the cost to duplicate the USB Flash drive has risen considerably, the design is not such that it fits into USB access points on a computer, and a lot of newer systems don't even have USB ports.
The downloadable format of MP3's is flexible to transfer to a phone, tablet, or Flash Drive once the files are downloaded from the Hosanna Hymnals website.
UNTIL SUPPLIES LAST – you can also purchase a USB. Just visit our store button link below.
Hymn 20 I Wonder as I Wander
Hymn 20 I Wonder as I Wander – Piano Only
Hymn 29 Silent Night Holy Night
Hymn 29 Silent Night Holy Night – Piano Only
Hymn 21 Good Christian Men Rejoice
Hymn 21 Good Christian Men Rejoice – Piano Only
Hosanna in Excelsis is a unique combination of hymns and devotions for the Christmas season. I like the layout of this book. It is divided into three main categories: Hymns of Advent, Hymns of Nativity, and Hymns of Epiphany. Each category includes a selection of hymns, a history of each hymn, and a devotional relating to the hymn. The daily readings are dated from November 25th to January 6th. The book exposed me to several hymns that I had not previously been familiar with. Many Christmas devotional/advent books abruptly end on December 25th. The January 6th end date of this devotional allows me to continue the journey past Christmas Day. I look forward to using this devotional every year during the Christmas season to help prepare my heart for Advent.
Excellent Book for an Advent or Christmas Season Devotional